Swing Analysis & Drill Plans
After your swing video has processed, the AI Coach will present your top priority swing flaw, along with a comparison to the Pro model and a comprehensive Drill Plan designed to improve your game – fast.
Don't have 18Birdies? Tap here to download the app!
Swing Analysis
Pro Comparison
When your swing video has completed processing, tap 'View Swing Analysis' to instantly get your first priority to work on, and your comparison to the Pro model.
The areas of focus for swing mechanics are indicated by the green overlay markers on your body, and swing tempo feedback is indicated by the timing bar at the top of the swing comparison.
Drills
In the world of golf, there are all sorts of swing philosophies but they all have one thing in common, how your body is connected to the ground. That's why the 18Birdies AI Coach analyzes your full swing, determines your highest priority areas of improvement, and suggests drills based on what will help you improve the most.
Once your swing has completed processing, tap View Swing Analysis to see your Swing Analysis and Personal Drill Plan.
Access your Drills at any time in Past Analysis.
Drill Plan
Your Personal Drill Plan is segmented into three separate drills. Our drills are designed to only require a minimum of 2 - 5 minutes per day, giving you the freedom to improve during your busy schedule. Of course, you can always complete the drills faster to advance through the AI Coach system.
When you've completed the drill and feel comfortable to move on, tap Start Next Drill to continue improving.
Past Drill Plans
If you ever need a refresher or want to show your friends what you've been working on, all of your past Drill Plans can easily be found from the AI Coach tab.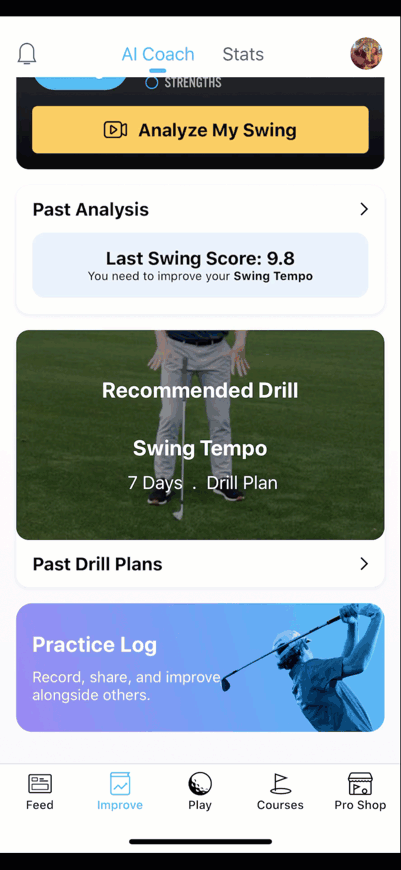 Don't have 18Birdies? Tap here to download the app!